There are many mysteries which still leave us puzzled even today. From alien artifacts, dragons and giants to ancient superhighways, lost art, technologies and time traveling phenomena, here is a small selection to ponder over.
I'm not an archeologist or historian, but I like to look as such puzzles beyond their mere entertainment aspect, as they can truly help open one's mind to seeing a bigger world, sometimes full of possibility. Enjoy!
See also:
---
Underground Superhighways
Across the European continent, an extensive network of 12,000-year-old massive underground tunnels stretching from Scotland to Turkey has been discovered1 just a few years ago.
Whilst hidden underground structures are nothing new (just think about catacombs or the hidden passages of New York), there seems to be a certain historical value associated with such invisible spaces that keeps capturing our imagination.
What was their purpose, who built them and why were they left behind?
See also:
---
Circular Megablasts
The mystery of the Chicxulub crater (which means "demon of ticks" in Mayan2) is located on the Yucatan Peninsula, partially merging with the ocean. The crater was likely formed approximately 66 million years ago3 with the fall of a large asteroid which could been tens of kilometers in diameter:
The impact most probably released around 100 teratons of TNT equivalent energy or two million times the yield of the largest thermonuclear device ever detonated (the Soviet Tsar Bomba which is 58.6 megatons in TNT).
But there are many other circular arcs which are also intriguing, for instance the Richat Structure in Mauritania (also known as "The Eye of the Sahara")4, which has been serving astronauts as a landmark for many decades now: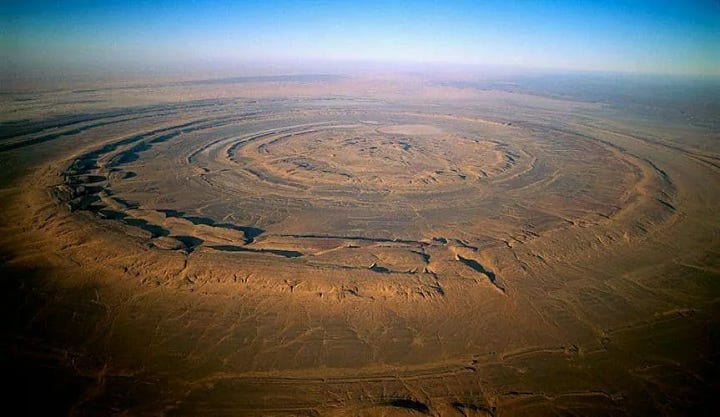 Or meet El Ojo, a.k.a. "The Eye" — Argentina's Mysterious Circular Island:
Discovered by filmmaker Sergio Neuspiller and his team, El Ojo is located in the Parana Delta and known to be at least two decades old. The water surrounding the island is very green and cold, completely different from the waters in the region and no one knows why it can float like that.
How was it originally formed and why does it rotate on its own axis5?
Modern Times Opportunities is a reader-supported publication. To receive new posts and support my work, consider becoming a free or paid subscriber.
See also:
---
Cosmic Architectures
A few years back, a very good friend urged me to visit his favorite place in South East Asia, the Borobudur Temple Complex6 in Java.
There is a lot of mystic symbolism in and around the place but nobody truly knows what this unique architecture was really built for. After all, it was lost to the jungle for almost a thousand years before it was rediscovered.
Note: if you plan to visit this special place, the early morning tour is really worth it!
There are many other phenomenally large and ancient architectures covering all of Asia, for instance Angkor Wat in Cambodia: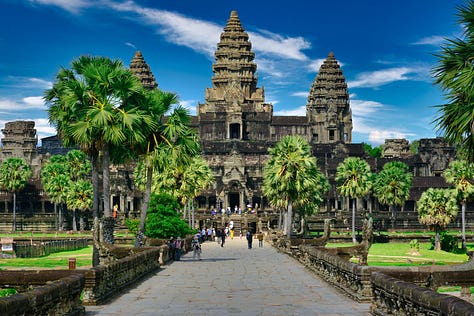 What's the purpose of these huge, extremely complex yet highly accurate structures?
See also:
---
Fascination Time
Believed to be the world's oldest "computer", the Antikythera7 is being revived in the latest Indiana Jones Blockbuster8.
Keep reading with a 7-day free trial
Subscribe to Modern Times Opportunities to keep reading this post and get 7 days of free access to the full post archives.